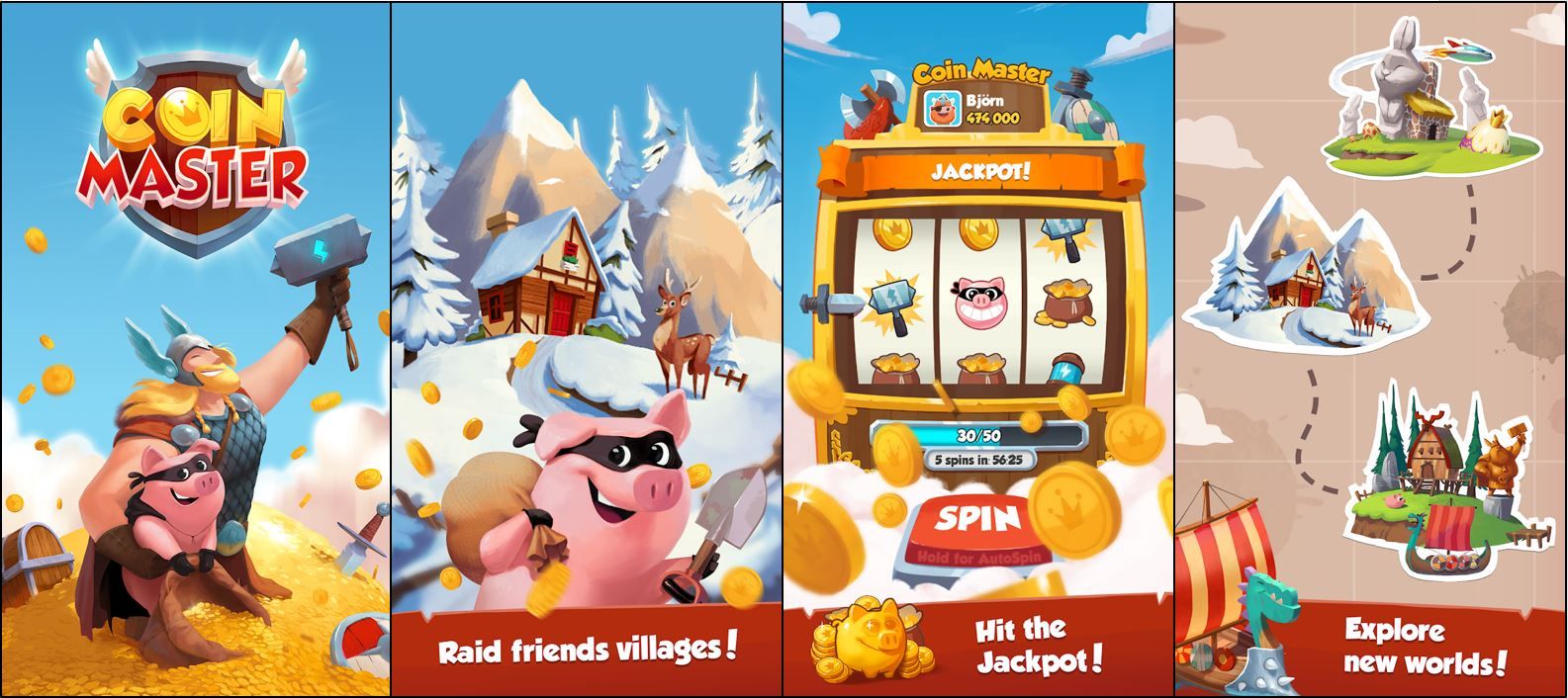 How Coin Master got Indians hooked to slot machines
Coin Master makes over $11m worldwide thanks to a savvy re-imagining of Slots games' and some clever game design
India is addicted to slot machines. We don't have a Vegas. And the off-shore Casinos in Goa don't really make up the numbers. So how did this happen? Time to take a look at the rise of Coin Master, a game developed by the Tel Aviv based game studio, MoonActive.
Contents
What is Coin Master?
Coin Master has been downloaded over 10 million times on Google Play alone. It's currently #3 on the top grossing charts in India. The game drives more IAP revenue (In-app purchases) than any other app except PUBG and Tinder! While India is the biggest market (by users) for the game, it is minting money worldwide. Coin Master is making $11m per month globally according to Sensor Tower.
In the game, you get to build and upgrade buildings. You also get to raid other players' bases while defending your own. 'Build and Battle' would be a concise summary. I could be describing Clash of Clans, but for one significant difference: Every action in the game is driven by Slot Machine rewards. (WHAT!)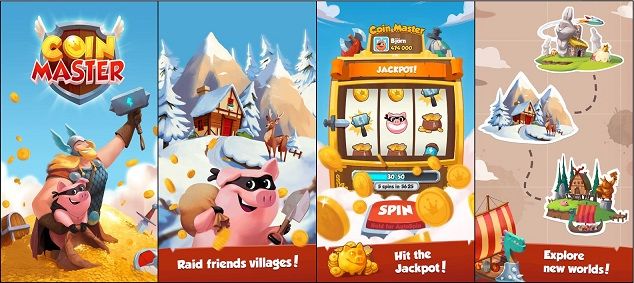 In this article we're going to discuss:
What is the larger significance, i.e. why pick this app to analyze
How does Coin Master work

UI elements, Core Loop & Art Style

Economy & Monetization
How human psychology is leveraged to create addiction

Loss Aversion
Variable Rewards
Reciprocity, positive and negative

Savvy Marketing
Closing Notes
What makes Coin Master significant
Coin Master combines two very different genres, Building & Gambling. The game developers must have asked themselves, "How do we re-imagine mobile slots?"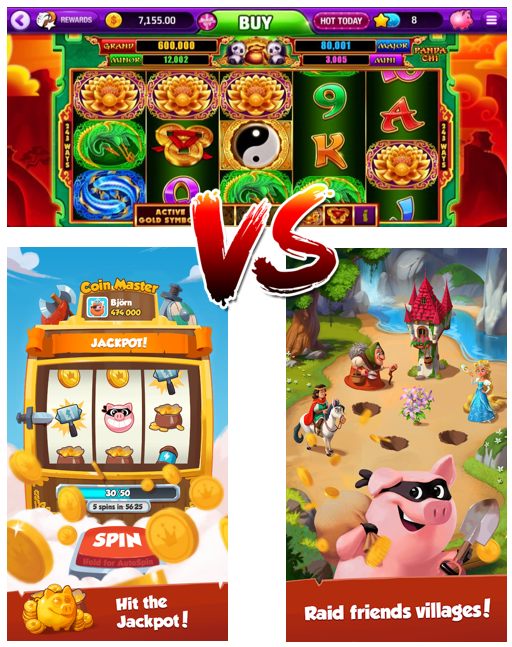 And this is what gives Coin Master its significance. In a world where traditional video slots mobile games are not growing, Coin Master and others like Pirate Kings are shaking things up.
In a country like India, where slots aren't a part of culture, Coin Master has done the impossible by reaching the #3 top grossing position - and yes, beating out anything with the words "Teen Patti" in it 6. This is big.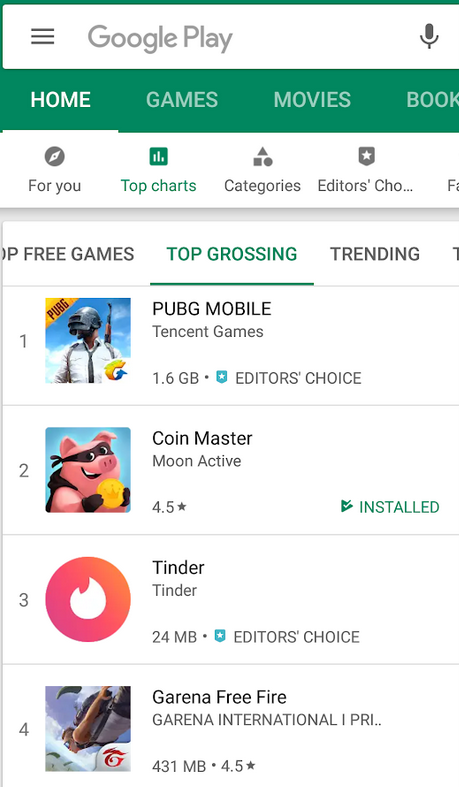 Even in countries accustomed to slot machines, Coin Master has been steadily climbing up the ranks. In the US it is a top 30 grossing app with only Slotomania ahead of it in the casino genre. And in the UK, it is #1 top grossing app. WOW! ... But more how that happened later in the article
Here is how it works
You install the game based on its feel-good advertisements showing social play with friends. The accessible, casual art style style draws you in.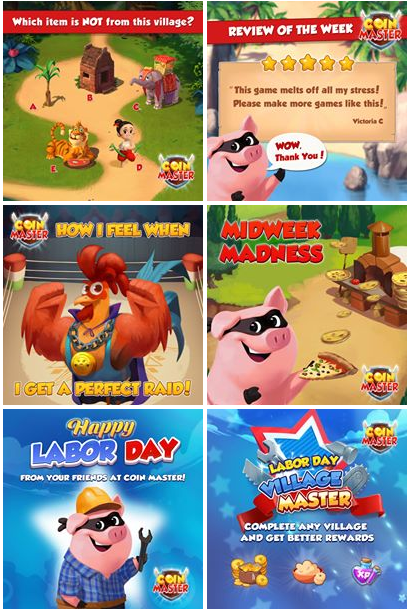 You start up the game for the first time, see your village and build your first building. This gives you a star, and importantly, a sense of progress.
Soon enough, you're out of coins but you want to build more. No worries - Swipe down and you see a Slot machine. This machine will be your companion throughout the game. Using it lets you earn coins which allow you to expand your village.
It feels like a real slot machine. Repetitive feel-good music. Playful visual effects. Coins flying out at you as you win. And even a change in music to elevate the tension, when you stand to win big.
Understanding the UI
There are two main screens. First, the slot machine. This is used to earn gold (soft currency) and raid other villages for even more gold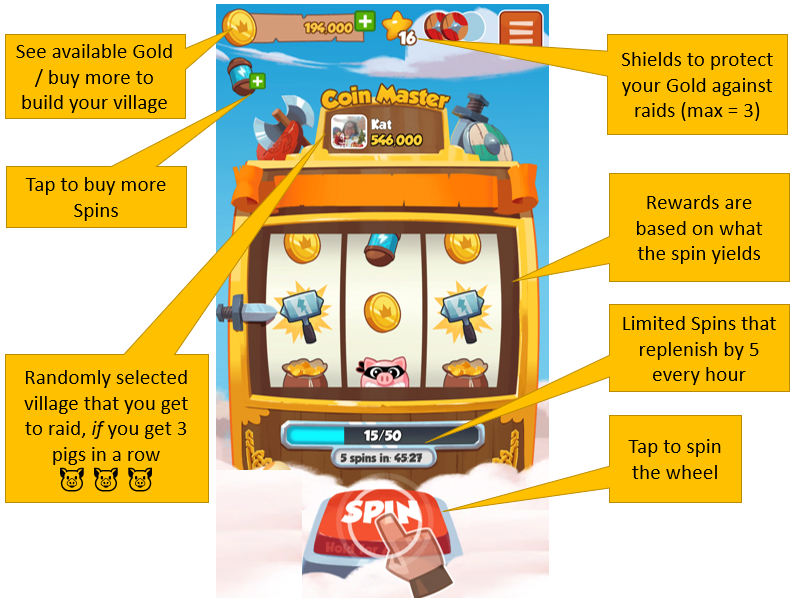 Second is your village. This is where you go to sink the soft currency by building and upgrading buildings. Once you build all available buildings in this village, the game takes you to next one and the process starts again.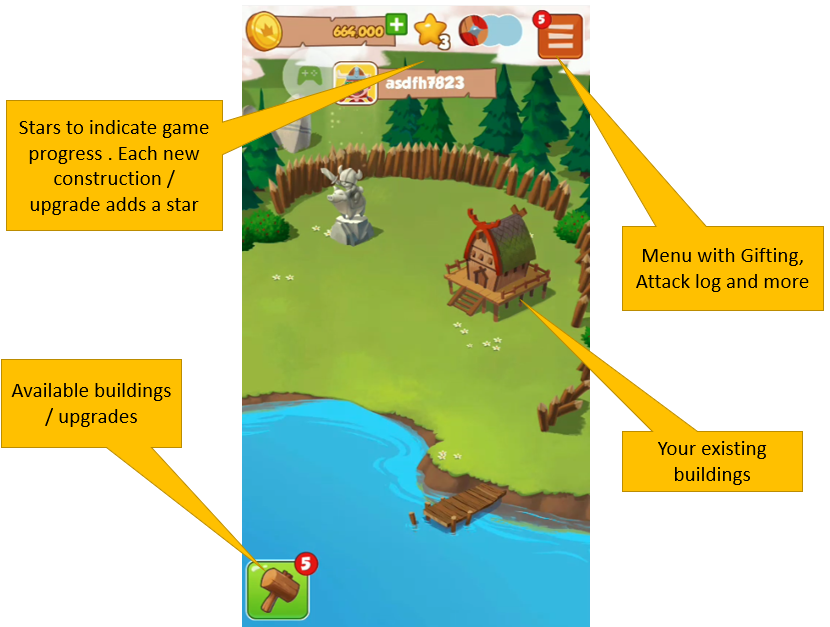 The Core Loop
The core loop depicts the economy of the game, showing how resources are generated and where they are spent. The soft currency in this game is Coins which you earn by spinning the wheel. You get 5 Spins every hour and can usually hold a maximum of 50.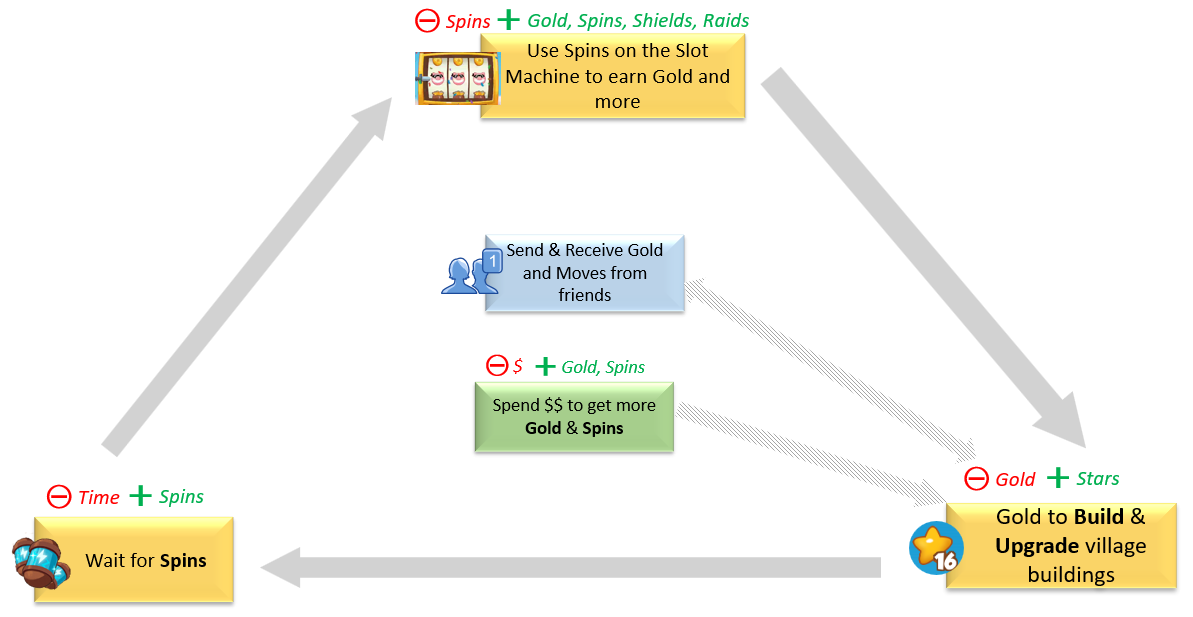 Every Spin on the Slot Machine gives you a chance to:
Earn Coins, the soft currency used to build up your village
Raid. A chance to  get disproportionate Coin rewards from a randomly selected village
Get a Shield, an item that protects you from raids
Attack. Ability to attack a stranger or someone from your friends list
Extra Spins. To add on spins
The Art Style
The main characters in Coin Master are a Viking and his pet pig. While those two sound like an unlikely pair, it is worth nothing that the visuals are done in a very accessible, cartoon-ish style. A clear departure from apps like Slotomania in which the visuals are designed to mimic real world slot machines.
As a result of this, the top of the funnel is wider for Coin Master as the app attracts the casual gaming audience
Economy, Tuning and Monetization
While the visuals may look very casual, the Economy is not. The free spins are designed to run out in the 1st session itself - within a couple of minutes. The game uses this opportunity to get the player to invite friends via Facebook or via a Native Share.

The first visual is to anchor the player to the price (~$4.99). On tapping close, it become evident just how important Facebook is to games that target a casual audience, as the user gets popup after popup incentivizing it.
Coins are sink into building construction and upgrades. As expected, there is an inflation in the cost per upgrade, both within a level and as the player levels up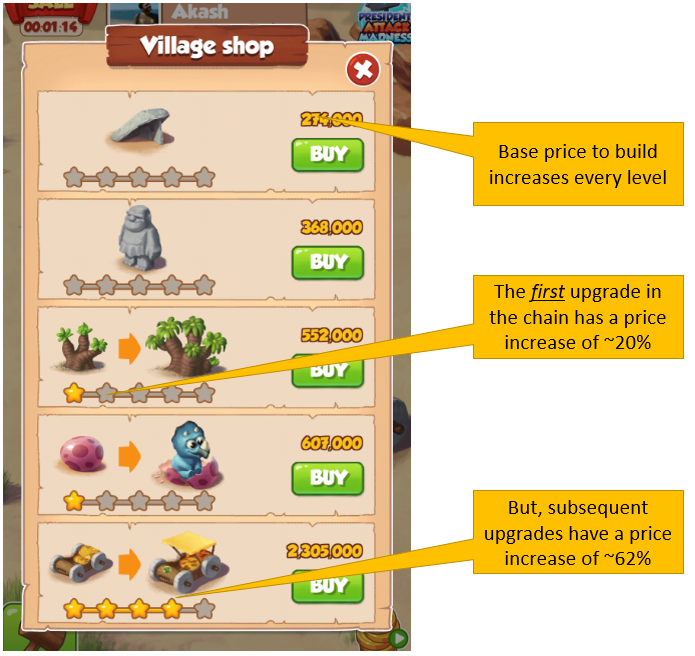 Monetization
Sales are a big part of the Monetization strategy. There are regular sales with deep discounts. Here are a couple of things that stand out:
There are frequent sales, often coupled with (or closely followed by) events to drive spend, engagement and sink currency
The sale offer can be purchased multiple times over. This indicates that their store pricing is mainly for anchoring
There is no mention of sales on their very active Facebook and Instagram channels. This indicates that sales are targeted on user profiles
Leveraging Human Psychology
Games and Apps around us exploit certain kinks in the human brain. Coin Master does this masterfully. Here is what we can learn:
1. Loss Aversion
Loss aversion is our tendency to avoid losses, over acquiring an equal gain. In short, losing $5 will feel worse than finding $5. In Coin Master there are multiple design choices that take advantage of this
Hard earned coins in the game can be stolen by random strangers
Imagine you're saving up for an building upgrade that costs 10m coins. That's a big number and it is not going to happen over one session of gameplay. So you decide to collect some now, some in the evening and then some tomorrow morning. You go to sleep thinking tomorrow will be the day.
But you wake up to find that "Brittany" has stolen your coins! A rude shock, but with only one solution. Find a way to save up the coins in one session. This usually means spending on extra moves or buying the coins outright.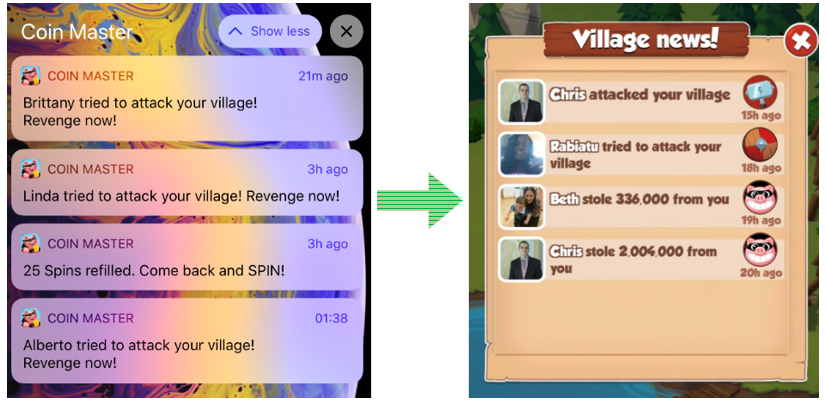 If this didn't feel punitive enough [3] then get this: Your coins can be stolen from you even when you're online! Even Clash doesn't do that.
And if that didn't feel bad enough, the game also has a mechanic where your building can be destroyed while you're away and you'll have to pay for repairs when you return [4]
Finite number of Spins
Spins replenish by +5 every hour and you can store a maximum of 50 spins. Which means, every minute spent at full spins capacity is wasted. How? You could have been accumulating more spins, of course!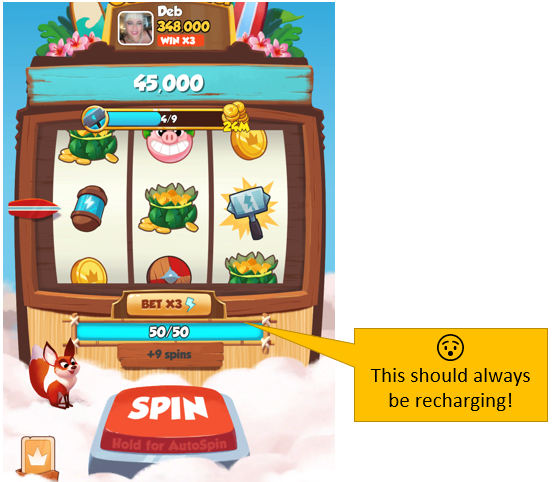 The game incentivizes you to play as soon as you wake up and exhaust your spins before you go to sleep!
Others
There are more neat tricks the game uses, I've put them in the footnotes [1]
2. Why doesn't everyone just quit? Variable Rewards
Coin Master, like any slots game, deploys a strategy of variable rewards to get users hooked. Any spin could be your lucky one! The research says that giving users exactly what they want, will get them less engaged over time. So the app gives users a mix of rewards ranging from meh to OhMyGod!
Here is an example: You really need 800k coins to make your next upgrade. Keith (below) has 756k coins up for grabs.. Excellent, this could be your chance! But you really really need for the machine to stop on the "RAID" option - when 3 pigs line up. You spin and pray at the same time. SUCCESS! Let's Raid. You raid, and you've got three tries to get Keith's treasure, but 4 possible locations to search. Of which one will be empty. Oh no, more variable rewards systems.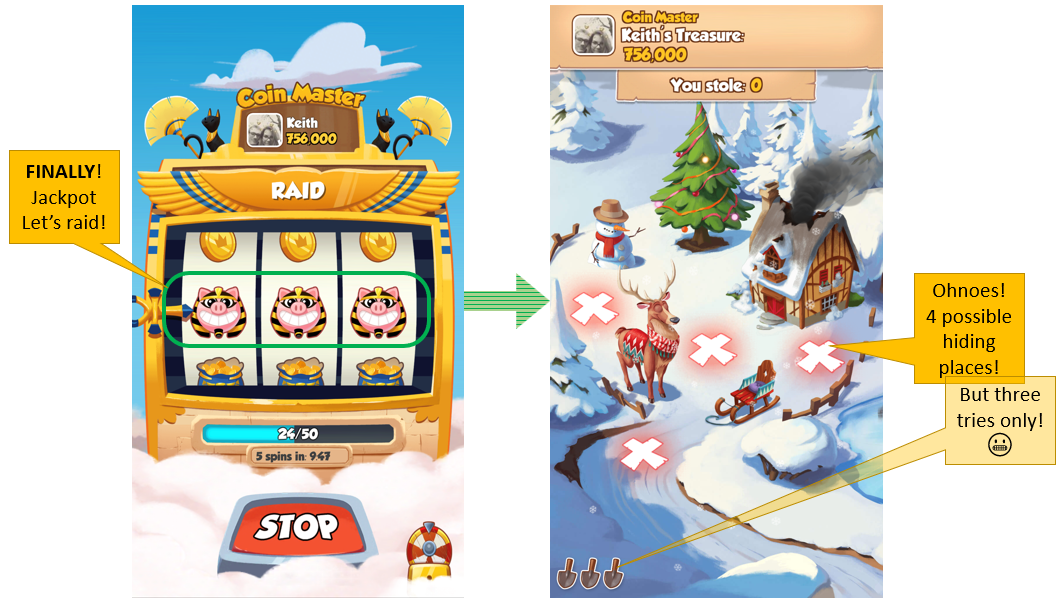 If you're an Indian reader, then you've been subjected to variable rewards in certain popular apps [5]
3. Reciprocity
The game uses social in every way possible. As we saw earlier, the game goes out of its way to get the player to connect to Facebook. Once done - expect a world of gifting and receiving.
Reciprocity is the social norm of responding to a positive action with another positive action. This is heavily leveraged in the app. A player can trade free Spins, Coins and Cards[2] all day, up to a limit of 100.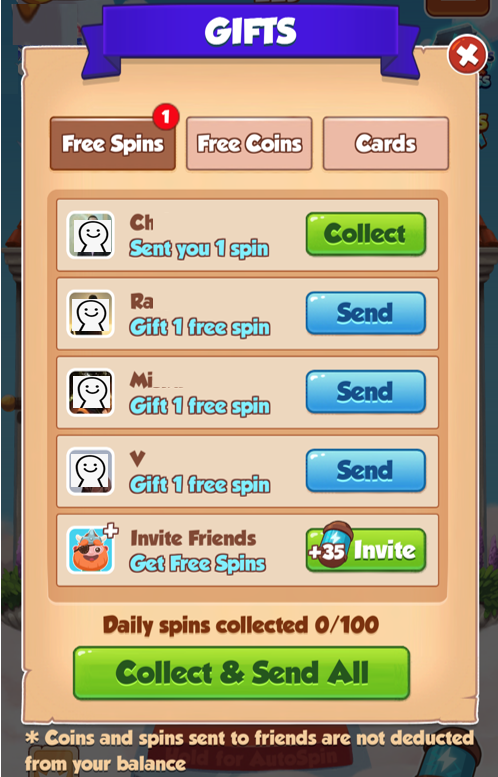 Negative Reciprocity
Got attacked? ... Coins stolen? ... Then let's revenge 🗡️
Revenge is a very important part of Coin Master. It is extensively used in the push notifications to draw users back into the game. It is even used while the player is in the game to get them into an attacking frame of mind. It is the entire basis for their ad campaign (as you'll see below)
Savvy Influencer Marketing
Coin Master has been busy recruiting influencers since 2017 (and maybe even before). Here is an video of Jianhao Tan, who is a top influencer in Singapore with 2.7m subs on YouTube
And then there are the tie-ups with the very popular 17 year old British Youtuber Morgz. He has 8.5m subs and these very cringey ads.
But, there is no denying that the results were like rocket fuel for the app as it shot up to #1 in both the overall downloads and top grossing charts in the UK.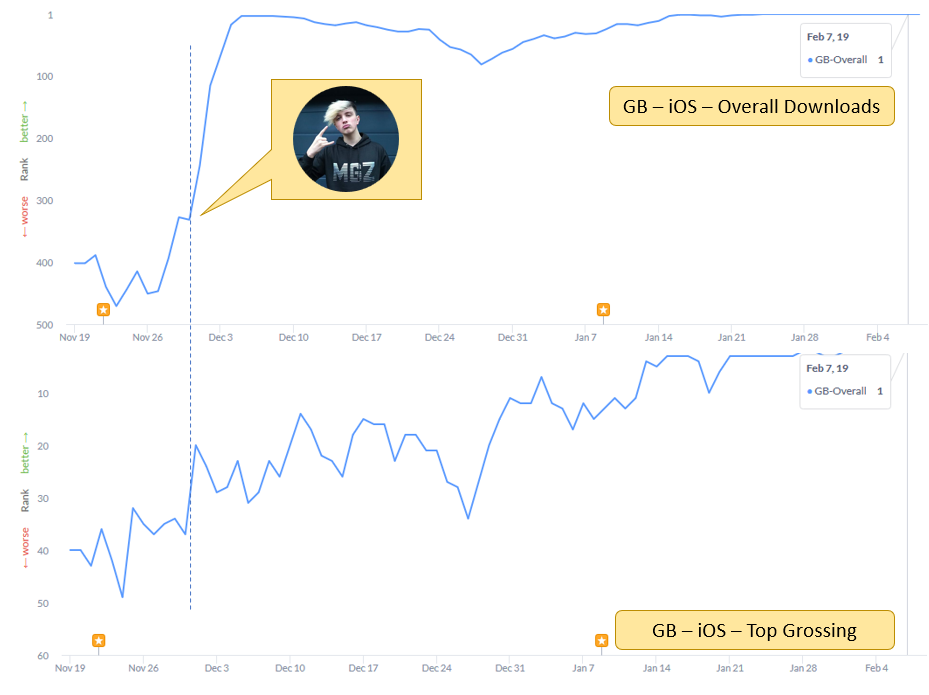 And I'm not sure how this happened - but Coin Master has captured the imagination of Indian YouTube. There are hundreds of videos talking about the app in Hindi. It's possible that the developers partnered with a couple of Youtubers and it just spread from there. Edit: Someone just told me that Coin Master advertised on Indian TV
To Conclude
Coin Master is a very well executed re-imagining of what mobile slots can look like. Like other top games, it mashes together various proven game mechanics to create a winning combination.
It is ahead of the competition (Pirate Kings) and I believe that is due to a superior Live-Ops strategy and a well managed, tight economy.  The game has a mature events framework that feels natural to the game. It drives engagement, IAP spend  and currency sink - in unison. It is well supported by a well managed social media presence and a savvy marketing team that have roped in a bunch of influencers. It is currently firing on all cylinders.
---
1. At at later level, Coin Master unlocks Pets. A Pet acts as a multiplier to your spin, giving more coins and stars. It requires treats to activate and stays active for a period of 4 hours. In this way, the game incentivizes the player to save up spins for a marathon session to utilize an active Pet in the best possible way. Treats are found via chests and can be purchased from the store
2. Once the player has unlocked cards, a powerful completion mechanic is employed by the game. Built to target long term retention, it is works by creating collections of cards that the player needs to find from random card drops from chests found. A completed collection will unlock a new, more powerful, pet. And a player will need to trade cards with friends, to complete a collection. This is designed to encourage social play and to give the player something to do with the duplicate cards found
3. Resource Stealing in the game isn't always symmetrical. Which is to say, A can raid and steal an amount from B, which is greater than B's balance because of boosts and multipliers at play. The game makes up the difference

4. Your buildings can be attacked, and when returning back to the game, you'll have to pay a hefty sum to fix the building. Without fixing it up, you can't complete the village and move on to the next. Another reason to pay to finish up the village in one shot and move on to the next

5. Google Pay India's much beloved mechanic of scratch cards is a great example of this. You fail far more times than you succeed, but the process is still a lot of fun. Just one thing here - no one ever fails the first time. Just saying. Also, CRED.
6. Though, Teen Patti games make a sizable amount of revenue off the app stores. Because 30%
Deep dives on mobile gaming and consumer social. Just occasional updates when something new is published
---