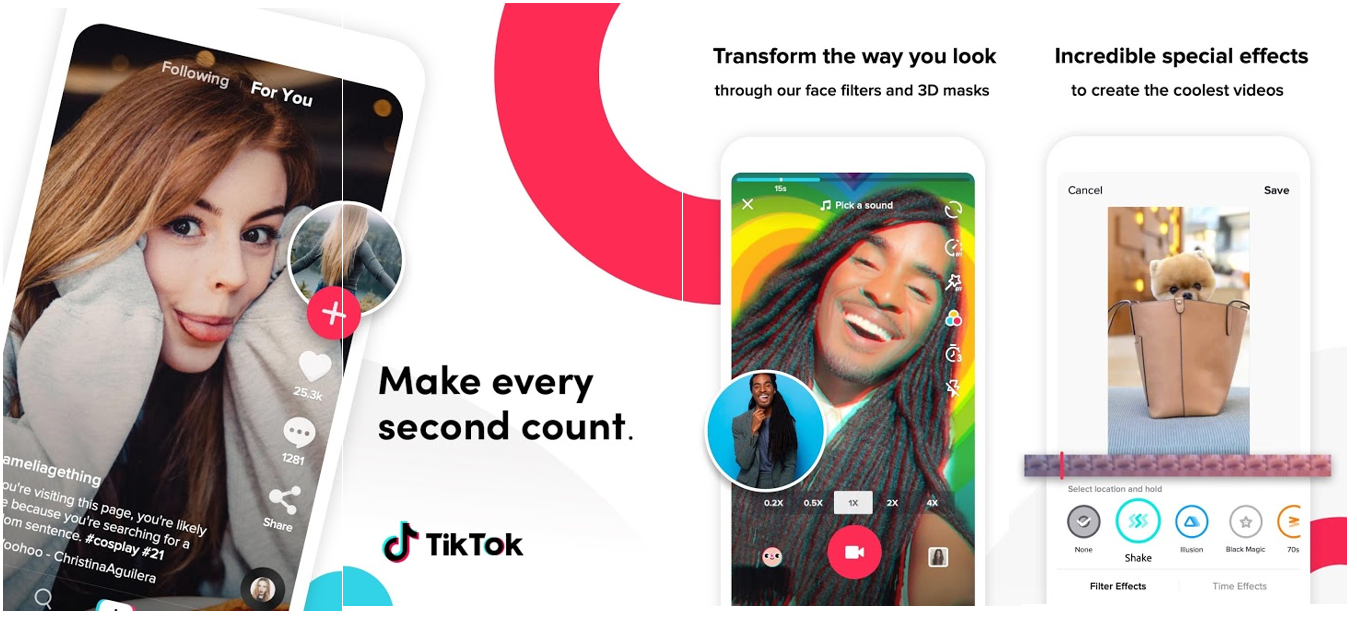 Why is TikTok so popular?
TikTok because the most downloaded app of 2018 and a global phenomenon. It stormed into the cultural lexicon with some clever app design choices and a beyond-compare recommendation algorithm. Find out more
Tik Tok is a crazy place. Everytime I open the app, time flies. Full of bite sized videos, it is immensely entertaining. You can find Parkour athletes doing gravity defying stuff, creators making magic, comedians, dancers, models and more. All of this led Tik Tok to get more iOS downloads than Instagram in Q1 2018 - that's huge! How did this happen?
---
Contents
---
What is TikTok
Tik Tok is a short-video social platform, powered by music and algorithms. Creators can upload videos up to 15 seconds in length. These videos are packed with all sorts special effects. Creators can add their favourite music or sound to their creation, for free. Here's an example to get us started:
And why are we looking at it? Because short video consumption is exploding and Tik Tok has really nailed it. In India, it is within the Top-15 Free apps. Both on the Apple and Google app stores.
Per KPCB's 2018 Internet Trends Report, Tik Tok has a stunning DAU/MAU ratio  [?]  of 57% (which measures stickiness) and has a Daily Time Spent of 52 minutes. That is A LOT of 15 second videos.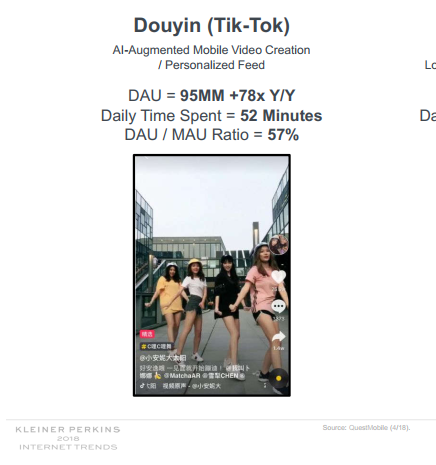 It was also the most downloaded app on the iOS app store in Q1 of 2018. (via Sensor Tower)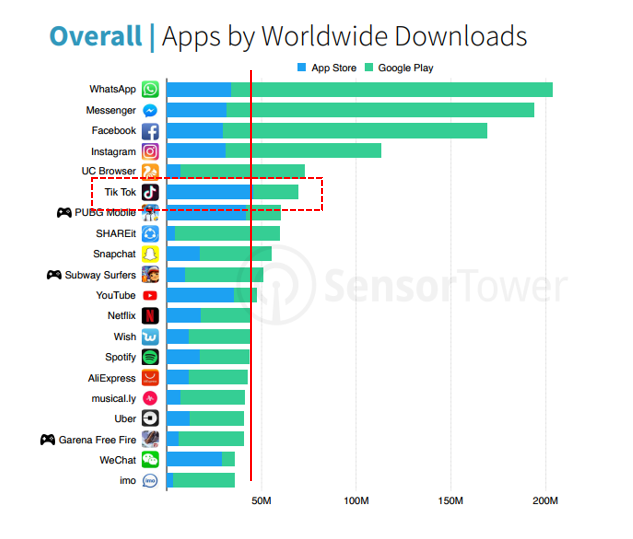 Gen-Z audiences are the primary creators and a large part of the consumers.
Then what is Douyin?
Tik Tok is called Douyin in China. [1] It is massively popular there (as Douyin), and around the world as Tik Tok [2]. Both apps are owned by the Chinese company Bytedance, which was last valued at $20 billion. Bytedance is well known for being the company behind the personalized news aggregator, Jinri Toutiao whose slogan is "'The only true headlines are the things you care about". It uses algorithms to surface relevant news and information, and has a massive daily active user count of 120 million [3]
While Douyin was immensely popular in China and Tik Tok in SE Asia, Bytedance needed something to crossover to the West. In Nov-2017, Bytedance purchased a similar app (very popular in the United States), as part of its strategy to go global [4]. That app was Musical.ly [5] (and as of 1st August, has merged with Tik Tok)
---
What makes TikTok so powerful?
TikTok is, in many ways, a really well executed social network. Not in the same that Facebook and Instagram are als0 social networks - it is very different. I plan to explore this is detail in another post, but the gist of it is that TikTok doesn't require you to build a social graph. It doesn't need for you to add friends. The "social" comes from somewhere else.
It also has UI and Design choices worth looking at and learning from. Here are 7 of them:
Super simple, non-penalizing UI
The app starts directly into the feed. It usually goes straight to a very popular video. The next few videos also just happen to be new and hugely popular (measured with an in-app currency HEARTS). This way the app ensures that my first minute returning to the app is nothing short of amazing.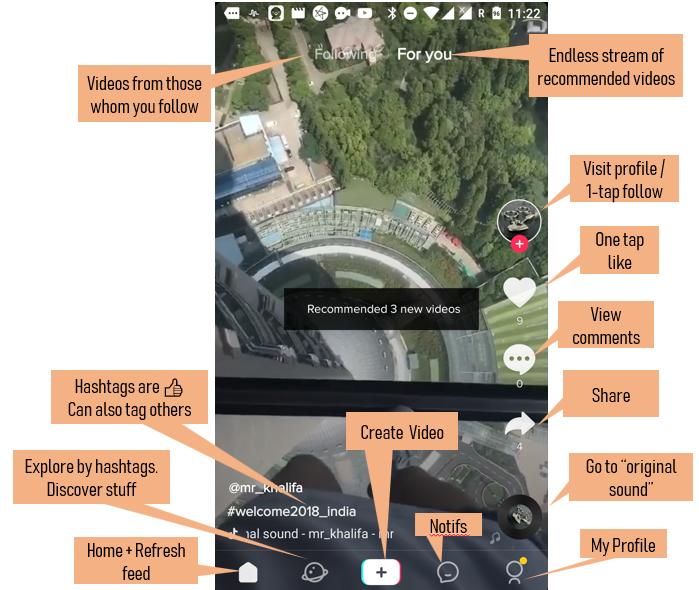 The important design choice here is to launch the user into the "For You" tab. This way the recommendations are not limited by the creators you've chosen to follow.
Swipe to the next video - forever
Swipe up or down, to move to the next/previous video. Or Swipe in from right to pull up a users profile. No gesture goes unrewarded. "Sorry! This action is not supported" - is something you'd never see on this app. There is no play or pause button on the app. Instead you can keep swiping up for the next video in an infinite line of 15 second clips.
HEARTS are the currency
A non-committal double tap to give a HEART is enough. Just like Instagram - but with one vital difference. The creator profile tracks all the hearts ever received. In doing so it gives creators another metric to chase (like Fans/Followers) with one big difference - A breakout video could really shoot up the Hearts count. Just one, and you could be a star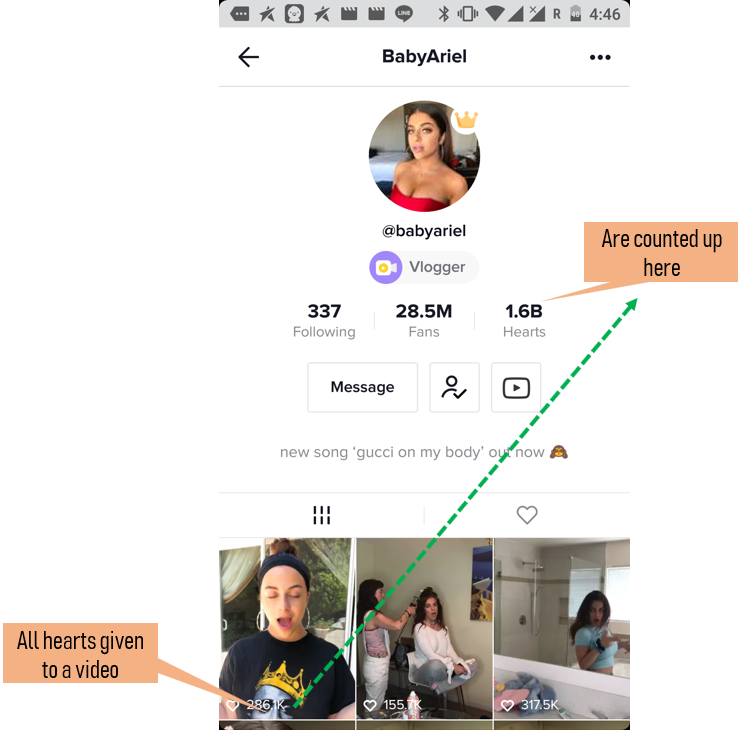 Discovering the next big thing
Content discovery on Tik Tok is fun! It can be through algorithms recommending videos via the "For You" feed. As long as is popular on the platform - it'll get recommended. I've found videos that were months old being recommended - which means that video ageing isn't a dominating factor in their algorithm. Creativity is timeless I suppose (or until the HEARTS stop coming in).
The Original Sound Concept
Every sound that gets uploaded to the network (for the first time) is designated the Original Sound and is tagged to the Tik Tok id of the user who uploaded it in the first place.
So in the picture, say I'm watching a video with a sound I like - (Marwa Loud - Bad Boy), I can click the 'Original Sound' icon to see ALL the videos that have been made based on that sound. Down the rabbit hole we go!
That's innovative by itself, but the next screen is where this mechanic really shines. I can (for ever), see the user who uploaded the sound in the first place.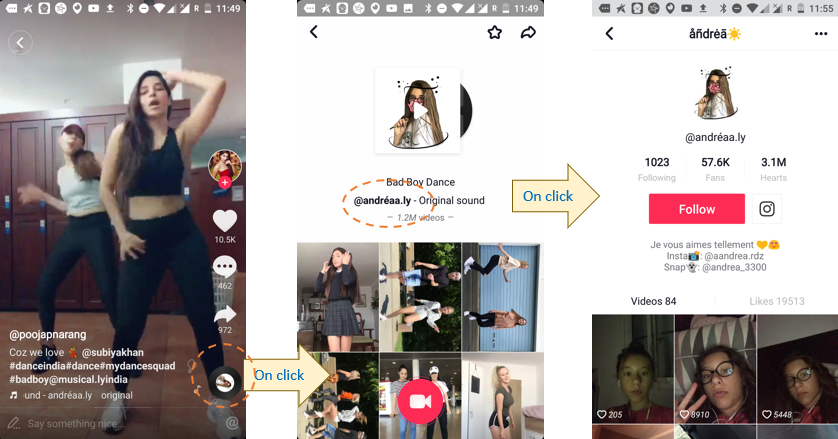 This creates massive incentives for users to be tastemakers on the platform. Find the next popular sound - and you'll get loads of clickthru's to your profile.
Also, the middle screen is a quasi leaderboard. It shows videos based on the sound (Bad Boy Dance) in Descending order of HEARTS received. True, it doesn't follow the best ways to set up Leaderboard based gamification, but it does something else instead. It tells the user - Be quick to react to new, trending sounds. Get on top, and fast!
Role of the Hashtag
The search screen: One can search for three things: Users, Sounds and Hashtags.
But what the app is really doing is gently nudging the user towards the various trends that are flowing through the app.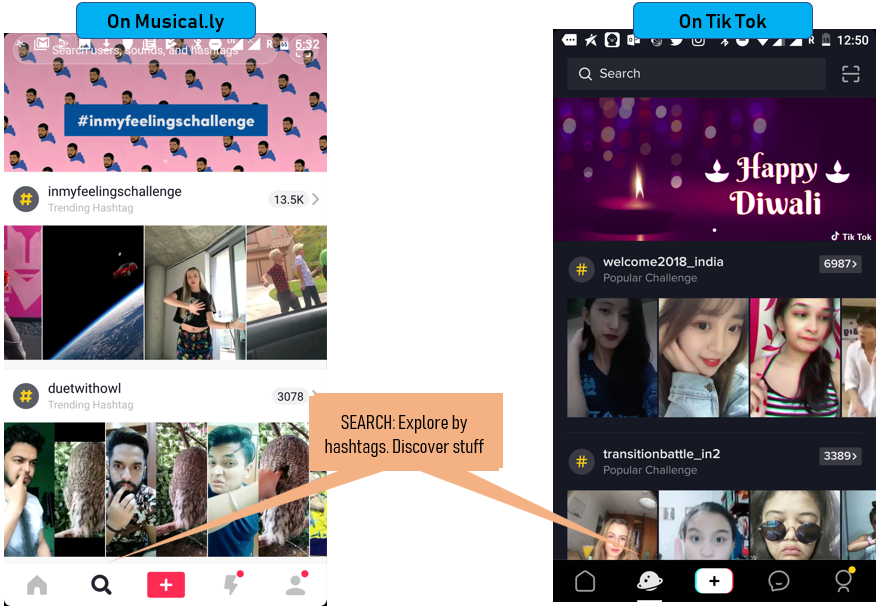 Live-Ops is crucial to success
Live-Ops is crucial to the success of the app. To borrow a term from the games industry, Live-Ops are enhancements to the overall experience of the game (or in this case - the app). Such as in-game events. It works to keep the app feeling fresh and full of activity.
Hashtags, Challenges and Search
Take Hashtags on Tik Tok as an example. It's used exactly how it would be on Instagram, with one vital difference. Freshness. On Tik Tok, there always seem to be new, trending Hashtags (#freezechallenge, #filterbattle #transitionbattle and so on). I don't know about you, but I'm tired of #foodporn on Instagram.
These are often seeded by Tik Tok itself. Such as the @GlobalChallenge account, which gives the creators new challenges to try out each week. By giving creators something to make videos about, Tik Tok ensures that content stays fresh and relevant.
mc_praveen on the latest trend, #danceinpublic
In fact, where ever you look, Live-Ops principles are at work. The search tab keeps changing with the latest hashtags for my location. It also has a carousel with the latest challenges for creators to try out for the week. This week it is the #OMGChallenge. And even the filters available when posting a video - that has a 'trending' tab as well!
Supporting the creators
Tik Tok supports its creators and the creators support back. The day Musical.ly merged with Tik Tok, my feed was awash with videos of creators were telling the userbase that nothing changes with the merger and to stick around. Now that is powerful.
Creators put out videos with the hashtag #Featureme and the Tik Tok team picks videos on a regular basis to be "Featured". This is worn as a badge of honour by content creators.
Tools for expression
The tools available to showcase creativity are top notch. It has all the filters and the AR effects that have become ubiqitious now. But what sets it apart is that a creator can make quick cuts, edit, slow down speed and much more.
A good game should be easy to play but difficult to master. Tik Tok is exactly that.  video: What you see below is a technique called transitions.
Or this one by @richbhatt08 which shows off a bunch of filters and is tagged with #FilterChallenge for good measure
But by far, the gateway to being a creator on the app is the ability to slow down a piece of music and lip sync to that. Which means you (yes you) could rap to Rap God (Eminem) today!
Tik Tok nails Social
Tik Tok's differentiating social feature is an excellent one - Duets
Here is an example:
It starts when a popular creator records a lip-sync video of to a particular sound.
Then other users scanning the very popular #Duetwithme hashtag see this and attempt to put their own spin on it.
In this way one piece of content can spawn thousands of associated pieces. Users of the app can feel close to their favourite stars by recording a duet with them. And there is (as with everything on the app), plenty of scope for creativity. It's also a great way for two established stars on the platform to collaborate to grow each others follower count.
Growing with and off other networks
Interestingly, Tik Tok allows a user to share their Instagram/YouTube profiles. At first look, it felt wrong. Why would an app give away its userbase to another app?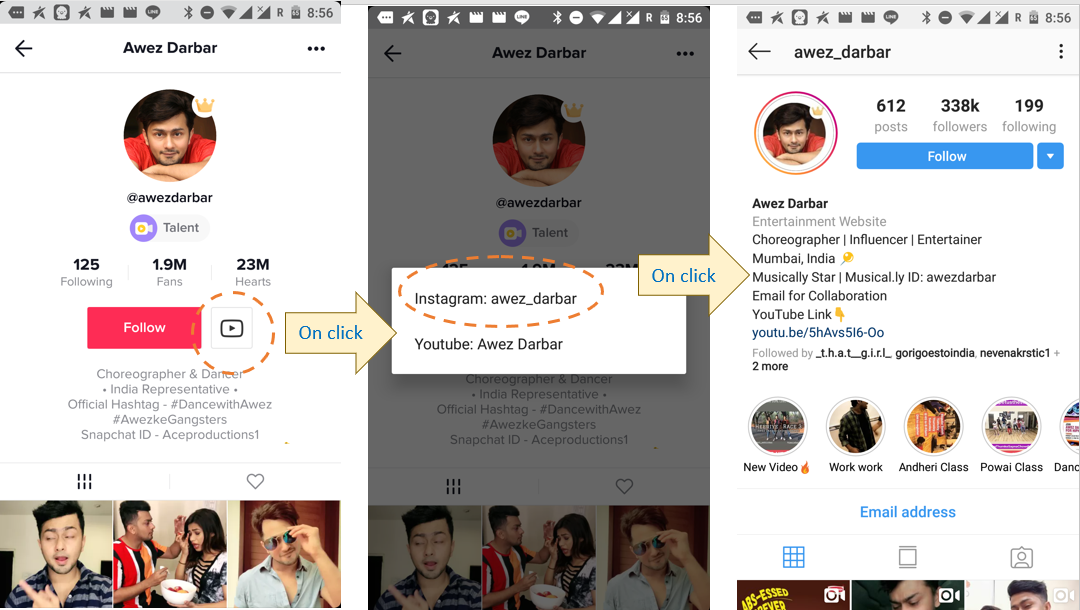 But Tik Tok feels comfortable with this. I belive it recognizes that the best creators on its platform, would be present across all the major apps anyway. So why not give them a way to increase their Instagram followers (which is notoriously hard) via Tik Tok.
I spoke to Shreya Kalra (100k+ subs, growing at about 2% per day) who confirmed it to me. She said that she uses her Tik Tok to drive traffic to Instagram and she cross posts her videos there as well.
Besides, with the amazing video creation tools offered by Tik Tok, their videos would probably be more eye-catching than standard Instagram content.
Closing Notes
Tik Tok seems to be experimenting with LIVE video [6] within the app. Not too heavily, but it's worth keeping an eye on.
Commerce within the app is already a thing [7]. As least in China. On Douyin, you can click through to a store run by an influencer, directly from within the app.
But ultimately, the power of Tik Tok is in its ability to make things go viral. And as it grows, this power will grow with it. It sits at one of the nerve centers of popular culture thanks to its very young demographic (16 -24 is my guess). This can directly translate into revenue through advertising and many other means.
---
Footnotes & References
↩︎ 1. From South China Morning Post: https://www.scmp.com/news/china/society/article/2146909/video-app-douyin-brings-chinese-out-their-shells-beats-youtube
↩︎ 2. Its direct competition Kwai by TenCent (or Kuaishou in China), LIKE (by the sharp folks behind [BIGO Live]
↩︎ 3. South China Morning Post: https://www.scmp.com/tech/start-ups/article/2126719/chinas-most-popular-news-app-toutiao-hiring-2000-content-reviewers
↩︎ 4. Bytedance has offices in London, Tokyo, Seoul, Shanghai, Beijing, Singapore, Jakarta, Mumbai and Moscow. India seems important for it, given the large number of open roles when this essay was written.
↩︎ 5. Techcrunch: https://techcrunch.com/2018/01/02/bytedance-enters-2018-with-some-uncertainty/
↩︎ 6. Bytedance is an investor in Live.me, which is a live streaming app
↩︎ 7. Source: https://twitter.com/mbrennanchina/status/996913192218611712
↩︎ DAU/MAU Ratio: is the number of unique daily active users over the unique monthly active users. It measures 'stickiness'. It is a good number to look at for an app like TikTok, but it shouldn't be applied to low frequency (but yet sticky) products like Booking.com.
Deep dives on mobile gaming and consumer social. Just occasional updates when something new is published
---